Dominus Napa Valley Red 1990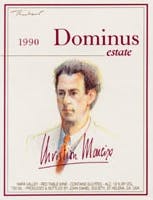 Unavailable
We're sorry, but this product is not currently available.
December 1989 was the first rainless December in this century, and only 18 inches of rain had fallen since the previous July. As the month of May began, the season appeared to be headed toward drought. The 4 inches of rain at the end of May saved the vintage. August and September were neither too hot, nor too cool, and allowed the fruit to ripen slowly and fully, with well-balanced acid and mature tannins.
Wine AdvocateIn a blind tasting, both the 1990 and 1991 wines were identified as being French by all eight tasters. I pulled these wines from my cellar to insert as ringers, so I was particularly miffed at not getting their origin correct. In retrospect, I suppose I was somewhat surprised by just how great the 1990 performed in comparison with the profound 1991. I mistakenly thought the 1990 was a Medoc, with its cedary, spicy, tobacco, blackcurrant-scented nose, sweet, full-bodied flavors, high tannin, and low acidity. It is a superb Dominus that may be just beginning to close down. Rich and powerful, it is capable of lasting for 20+ years.
Wine SpectatorDeeply flavored, rich and complex, with tiers of currant, coffee, spice and chocolate. While it's young, intense and tannic, it's developing a supple texture, which allows the flavors to glide through on the finish.