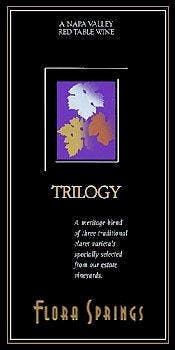 SKU: 680
Flora Springs Trilogy 2003
---
---
2003 was a great year for Cabernet Sauvignon. As a result, the 2003 vintage of our acclaimed Bordeaux blend Trilogy has a higher percentage of Cabernet Sauvignon than previous vintages. The oak and cherry nose moves into strong Cabernet flavors of black cherry, cassis and tea. These characteristics are accented by hints of raspberry from the Merlot, tobacco from the Cabernet Franc, plum from the Petit Verdot and a ruby richness from the Malbec, resulting in outstanding wine that has a strong tannin structure that will allow it to age gracefully for the next several years. This gutsy wine has all the elegance that Trilogy is known for as well as the added benefit of full fruit flavor and body that makes it a pleasure to drink.
Trilogy used to be made from three Bordeaux varieties; hence the name. The '03 is all five, dominated by Cab Sauvignon. The wine is a little hard now, keeping itself aloof due to the tannins. Yet it has deep, blue and black fruit flavors and a Margaux-like elegance and harmony, and should develop quite well over the next 10 years.
The most elegant wine in the Flora Springs portfolio is their proprietary red called Trilogy, which has evolved from an equal part blend of Cabernet Sauvignon, Merlot, and Cabernet Franc, to a current blend based on vintage conditions. It has always been the estate's interpretation of a St.-Emilion. Made in an elegant manner that can come across as too restrained and delicate, it is an interesting interpretation of a unique style of winemaking. The medium-bodied, dark ruby-tinged 2003 Trilogy (75% Cabernet Sauvignon and 25% Merlot and Cabernet Franc) exhibits scents of red currants, raspberries, and spice box. Although this Bordeaux-like red reveals austere tannin as well as a touch of leanness, it is an attractive wine to drink during its first 7-8 years of life.
Supple, elegant and graceful, with a pleasing mix of earth, anise, currant and wild berry fruit that's well-balanced and supported by firm, ripe tannins. Ends with a touch of mineral earthiness. Cabernet Sauvignon, Merlot, Cabernet Franc, Malbec and Petit Verdot. Drink now through 2012. 6,200 cases made.