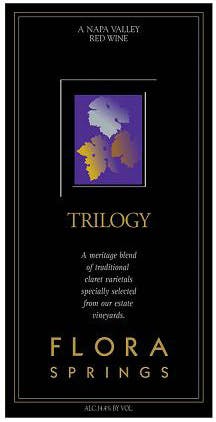 SKU: 681
Flora Springs Trilogy 1999
---
---
The philosophy of blending is basic to the concept of Trilogy. We approach this wine like an artist with a palette of colors. The result is a complex masterpiece of flavors and aromas that have great persistence on the palate and are tempered with a sense of elegance and finesse. A preliminary Trilogy blend was made after malo-lactic fermentation had concluded. The wine rested quietly in small (50% new) French oak barrels until just prior to bottling. In 1998 we added Malbec to the blend for the first time and we were so pleased with the result that we included it in the 1999 version as well. The Malbec adds depth of color and an intense blueberry, black plum character to the wine. Vintage The year began in the grips of a cold front that moved down from Alaska in January. The cold temperatures continued into April, which meant that we had to frost protect 20 nights in the Spring. The cold weather delayed budbreak and, even in June, we were surprised at how unseasonably chilly it was. Rainfall was normal at about 33 inches for the year. Usually this kind of start to a vintage means a late harvest. Fortunately, the weather warmed up in September and continued through October. All of our grapes were picked by the end of October and we were very pleased with the intense fruit character that this vintage gave us. The Vineyards Appellation St. Helena Rutherford Varietal Content 48% Cabernet Sauvignon, 42% Merlot, 6% Cabernet Franc, 4% Malbec Barrel Aging 26 Months Release Date Spring 2002 The grapes for Trilogy come from our estate vineyard, the Komes Ranch, which surrounds Flora Springs Winery. This beautifully diverse 110 acre vineyard begins at the 500 foot elevation and slopes down to the valley floor, offering varying exposures, clones, soil types and vine age. Located at the northern boundary of the famed Rutherford Appellation, it is prime location for red varietals.
Trilogy used to be a formula blend of three varietals, but this year it's Cabernet Sauvignon, Merlot, Cabernet Franc and Malbec. This is Flora Springs' flagship wine, and a very good one. It's a flashy wine. The fruit is ripe, the oak is notable, the tannins testify to the best vineyard practices.
There are 7,500 cases of the outstanding 1999 Trilogy (a blend of 48% Cabernet Sauvignon, 42% Merlot, 6% Cabernet Franc, and 4% Malbec). Its elegance and finesse are nicely balanced by the wine's considerable richness. A dense ruby/purple color is followed by aromas of malt chocolate, cocoa, black cherries, currants, licorice, and earth. The wine is medium to full-bodied, pure, and ripe, with nicely integrated acidity and tannin. It will drink well for 12-15 years.
Trim and elegant, with rich cedar, chocolate and black cherry, hints of tobacco and dill. Turns tight and firmly tannic on the finish. Drink now through 2006. 595 cases made.