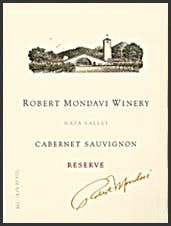 SKU: 837
Robert Mondavi Reserve Cabernet Sauvignon 1992
---
---
Our Reserve wines made from the best fruit of individually selected vineyards in Napa Valley offer the most cellar aging potential and truly belong in the company of the great wines of the world. These wines embody the marriage of advanced viticultural practices with winemaking artistry, resulting in wines of elegant complexity that have the structure to endure the test of time.
Tasting through Robert Mondavi's portfolio continues to reinforce my impression that this winery is undeniably the spiritual and qualitative leader of that sector of the California wine industry dedicated to producing world-class wines. What is so admirable about the entire Mondavi operation is that they continue to push their wines to higher and higher qualitative levels. Their nearly obsessive pursuit of bottling the wines with no manipulation has led to the majority of Mondavi's white wines being bottled without filtration - an extraordinary testament to their commitment to natural wines and superb quality. Mondavi has also inaugurated a line-up of Italian-inspired varietals (Barbera, Sangiovese, Pinot Grigio, Malvasia, and Tocai) in designer bottles. While the quality is good, those products have not yet hit the heights of the firm's other wines. Rest assured, that will change. While most wine collectors concentrate on Mondavi's Reserve Cabernet Sauvignon program (and why not?), this winery has been turning out fine, unfiltered Cabernet Sauvignons from Napa and from their Oakville vineyard. Mondavi produces 10,000-15,000 cases of Reserve Cabernet Sauvignon, which reflect the vintages' personalities, ranging from elegant, graceful, structured wines (1992), and blockbuster, massive, concentrated wines (1987), to wonderfully fragrant, velvety-textured wines of exceptional intensity that can be drunk young (1990, 1993, and 1994). The wine has been particularly strong since 1990 (although my palate still says 1987 is the vintage to beat), with a succession of glorious Reserves. The most tannic and backward is the 1991, and the most promising are the 1990, 1991, and 1994. The most underrated is the 1993. On my recent trip to California, the 1992 Cabernet Sauvignon Reserve was much more closed than when tasted on the East Coast in several recent horizontal tastings. It appeared less explosive, but extremely full-bodied, rich, and concentrated, yet restrained and in need of 4-5 years of bottle age. Perhaps I caught it on a bad day, but it is an outstanding wine which I have rated as high as the mid-nineties. On this occasion, it performed like a young, tannic Bordeaux from a top vintage - splendidly concentrated, pure, and rich, but oh, so backward. All things considered, there is plenty to be excited about at the Robert Mondavi winery.
Mature, with drying, leathery currant, black cherry and blackberry fruit, indications that the wine is fading. Best soon.--'92 California Cabernet retrospective.