Philip Togni Tanbark Hill Cabernet Sauvignon 2001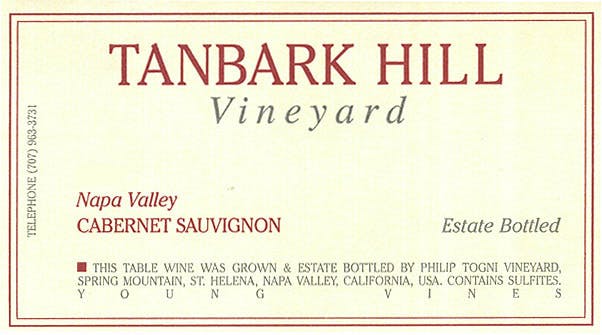 Thick and dense, with plenty of stuffing, and despite the big structure, approachable at an early age.
Wine AdvocateThe terrific 2001 Cabernet Sauvignon Tanbark Hill, a second label composed of declassified fruit, suggests the declassification may have been too strict in this vintage. It possesses a dense purple color as well as a sweet nose of cedar, smoke, white chocolate, blackberries, and cassis. Ripe, expansive, and precocious, it should be at its peak of drinkability between 2010 and 2025. If this is a second wine, let me tell you about all the green leprechauns I've met! As a postscript, I want to acknowledge a wine Philip Togni produced early in his career at Chappellet, the 1969 Cabernet Sauvignon. Recently, one of my dearest friends, Dr. Jay Miller, was feting his 60th birthday, and brought a bottle of this wine along with a collection of profound museum pieces. Togni's '69 may be one of the greatest California Cabernet Sauvignons I have ever tasted. Every bottle I have had seems to get better and better. This 36-year-old wine tastes like a 14- or 15-year-old adolescent except for the extraordinary soaring aromatics of creme de cassis, spice box, incense, and cedar. In the mouth, it's gorgeously fresh, full-bodied, super-concentrated, and revealing no signs of age. It is both a monument to California Cabernet Sauvignon and an homage to a feisty British-born winemaker who continues to turn out some of the world's most interesting wines.