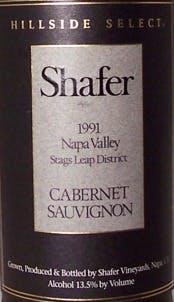 SKU: 994
Shafer Hillside Select Cabernet Sauvignon 1991
---
---
This was a fantastic vintage with lots of hang time. In the cellar we'd learned how to produce our wines with less human manipulation. Dense color in the center of the glass with red/orange at the edges, dense flavors, juicy fruit, great length, and richness. Complexities are still developing.
This knock-out Cabernet Sauvignon boasts a youthful purple color, a sweet, blackcurrant, vanilla, and earthy-scented nose, great ripeness and sweetness of fruit, high flavor extraction, well-integrated acidity and tannin, and a layered, multi-dimensional, complete feel in the mouth with no hard edges or toughness. There is splendid balance and concentration. The 3.63 PH gives the wine a juicy, succulent, up-front feel, and a chewy, expansive, layered texture. This wine requires 4-5 years of cellaring, with the potential of 30+ years of aging. A terrific 1991!
Rich and plush, deeply concentrated, with complex currant, coffee and cedar, and a twinge of stalky bell pepper and green bean. Finishes with tobacco notes and firm tannins. Turns herbal, but has a long way to go.--'81/'91 California Cabernet retrospective.