Knappogue Castle Single Malt Irish Whiskey 12 year old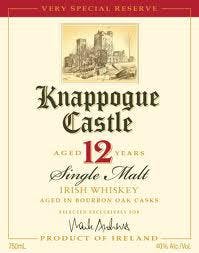 Color: Lovely pale straw/yellow color reminiscent of muscadet white wine; ideal purity. Aroma: Opening inhalations encounter richly biscuity and malty/grainy/breakfast cereal aromas. Several minutes of air contact adds intriguing pepper/vegetal and spice notes. Taste: Entry is balanced, focused, and integrated, slightly astringent and nicely fruity. Midpalate has delicate tastes of marshmallow, brown sugar, oaky vanilla, and marzipan. Comment: A polished and mature Irish single malt whiskey selected and bottled at the ideal age. One of the best Knappogue Castle bottlings to date. Excellent Value.
Wine EnthusiastThis single malt "very special reserve" is light-bodied and perky, from its herbaceous, grassy scent to its citrusy flavors and almost effervescent feel. It finishes light and creamy, with a touch of honey and a whisper of smoke. Because it's so light, it would be good with savory appetizers, such as cheeses, charcuterie and anything encased in puff pastry.