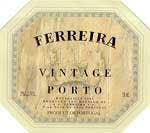 SKU: 2125
Ferreira Vintage Port 1994
---
---
Well-toned muscles complement intense aromas of ripe grape skins and earth. Medium body and sweetness, firm tannins and a long, tannic finish. An impressive Port.
Inky, with intense, ripe fruit flavors, verging on raisin with a hint of citrus. Medium- to full-bodied and lightly sweet, with medium-tough, velvety tannins and a fresh finish. Not quite as impressive as when tasted from barrel, but a well-toned vintage Port nonetheless. Best after 2006.
Although the color is impressive, the 1994 vintage port tastes one-dimensional and awkward. The tannin and alcohol dominate the wine's personality, but there is good weight, depth, and length. At present, it is unknit and not yet harmonious. It should keep for twenty years, but I wonder about its balance. The Ferreira offerings reviewed in this segment are an uninspiring group of ports.