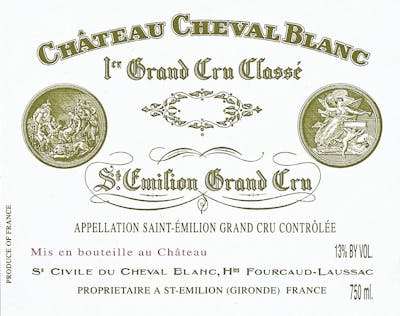 SKU: 2204
Château-Cheval-Blanc Saint Emilion 2000
---
---
A deep color of crushed blackcurrants. A rich and complex nose with a bouquet of spice, vanilla, coconut and ripe raspberries. A clean, fresh attack. Silky tannins melt into an intense, never-ending finish. A very great wine to lay down. It will be one of the greatest of the century.
This closed, backward blend of 53% Merlot and 47% Cabernet Franc boasts a saturated purple color along with a reticent but striking bouquet of blackberries, blueberries, truffles, and mocha. In spite of its tightness, aeration reveals scents of licorice, menthol, and saddle leather. Opulent and full-bodied, with low acidity, sweet tannin, and a 60-second finish, it is unquestionably as profound as the 1990 and 1982. I still believe the 2000 has the potential to be the most compelling Cheval Blanc since the mythical 1947 and 1949, but patience is required. It should merit a three digit score in 7-10 years, but it is closed at present. Anticipated maturity: 2010-2030+.
In 2000, it seems the Cabernet Franc made Cheval Blanc. It has given a mysterious, wonderful perfume to the intense richness of the Merlot. It has less of the explosive power of Ausone, it is more subtle and elegant, reserving its explosion of richness for the end, when a welter of black fruits seems to go on for ever.
Fresh mineral, berry and earth aromas. Decadent. Full-bodied, yet refined and silky, with a lovely, long finish that goes on and on, with tobacco, berry, cherry and spices. It's not the 1998, but it's very good indeed. Best after 2006.