Dominus Napa Valley Red 1991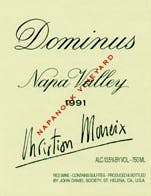 Dominus, produced by the John Daniel Society, is made solely from grapes grown on the historic Napanook Vineyard in Yountville, California. The 1991 Dominus is the most harmonious and elegant wine to be released by the winery in the first decade of its existence. For the first time in the history of the wine, Merlot was not included in the final blend.
Wine AdvocateIn a blind tasting, both the 1990 and 1991 wines were identified as being French by all eight tasters. I pulled these wines from my cellar to insert as ringers, so I was particularly miffed at not getting their origin correct. The 1991 is the finest Dominus to date, although the 1994 may eventually rival it. The wine is incredibly expansive, rich, complex, fragrant, concentrated, and compelling in all respects. The opaque ruby/purple color is followed by huge quantities of sweet jammy fruit nicely touched by tar, licorice, and earthy scents reminiscent of the aroma of fresh black truffles. The wine is extremely concentrated, opulently-textured, and voluptuous, with huge reserves of juicy fruit. It is a marvelous Pomerol-like wine of exceptional purity and harmony. Although approachable, it requires 2-4 more years of cellaring; it should last for 2-3 decades.
International Wine CellarVery saturated dark red-ruby. Youthful, supercomplex aromas of plum liqueur, currant, brown spices, leather and chocolate, plus an ineffable animal/vegetal/mineral element. Wonderful penetrating sweetness in the mouth; dense, thick, very intensely flavored and pungent. Sharply delineated. Perhaps not quite the sheer size of the '94. Finishes extremely long and focused, with fine tannins and a note of superripeness.
Wine SpectatorWonderful complexity and youthfulness, from the initial aromatics to the follow-through on the finish. Serves up a mix of complex currant, tobacco, earth, brick, mineral and cedary tobacco. Holds its focus and finishes with a long aftertaste without being too heavy or tannic.--'81/'91 California Cabernet retrospective. Drink now through 2009.