Mejor Tequila Reposado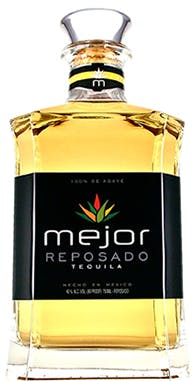 Experience Mejor Reposado, crafted using 100% private-estate highland blue agave of the highest quality. Reposado is aged 11 months in American oak barrels producing a sweet mellow maple aroma, caramel and citrus notes with an ultra smooth vanilla finish. Enjoy neat, on the rocks or in your favorite cocktail for the ultimate reposado experience. Nose: Caramel, Spice, light oak. Body: Medium Velvet Body. Finish: Cinnamon, Vanilla.
Wine EnthusiastThis bright, light-gold spirit has a luxuriously fresh, fruity scent, like caramel drizzled over apple slices. The flavors are complex and mellow, morphing from grassy and herbal to lemon, hazelnut and cocoa on the finish. This single-estate highlands Tequila has a bit of alcoholic heat, but that wouldn't matter lightened in a margarita or other citrusy cocktail.