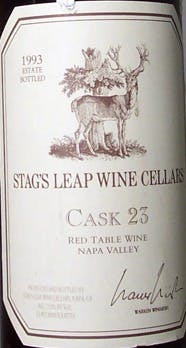 SKU: 6107
Stag's Leap Wine Cellars Cask 23 Cabernet Sauvignon 1993
---
---
The gleam of ripe black plum with a garnet border. A panoply of black cherry, violets, tobacco and leather aromas. Generous lush fruit is augmented by traces of nutmeg and vanilla. Satiny tannins recall the black cherry and violet elements of the aroma in a sensuous finish.
The outstanding 1993 Cask 23 Proprietary Red Wine exhibits a dark ruby/garnet color, sweet, coffee, chocolate, cherry-like aromas, medium to full body, an alluring sweetness on the attack, but dry tannin in the finish. This effort possesses more expansiveness and richness, but the wine is well-below the profound Cask 23's made in 1992, 1991, 1990, 1985, 1978, and 1974. I have been a consistent fan of previous vintages of these red wines, and I have noted in these pages the progress being made with the whites. However, it appears a different stylistic direction has been implemented. This is especially apparent in 1995 and 1994, and to a lesser extent in 1993. Lamentably, the wines come across as more narrowly focused and compact on the palate, and because of that, they give the impression of having less intensity, flesh, and richness. I hope my judgments are proven incorrect.
Lightly aromatic, but the earthy currant, wild berry, coffee and mocha come to life on the palate, if on a small scale. Best soon, as the tannins are drying.--1993 California Cabernet retrospective. Drink now. 3,000 cases made.