WhistlePig Old World Cask Finish Rye Whiskey 12 year old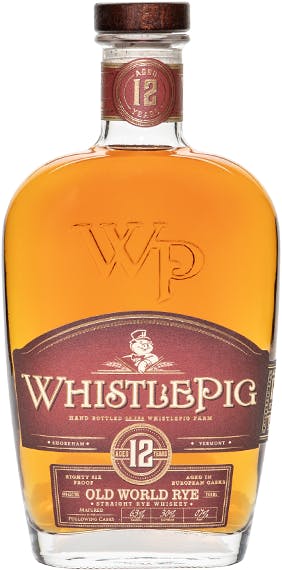 Rye inspired by Old World barrel-aging traditions. This 86-proof 12 year-old Rye Whiskey is a marriage of whiskeys aged in New American Oak and ingeniously finished in Port (7%,) French Sauternes (30%,) and Madeira casks (63%). We've taken the elements that are most quintessential in an American rye - boldness and character - and fused them with the elegance and grace of an 18 year old Scotch. On the nose, caramel, vanilla, and winter fruit. On the palate, rye spice, apricots, plums, raisins, dates, and honey. On the finish, dark chocolate, winter fruit, caramel, and vanilla.
Wine EnthusiastMade with 12-year-old whiskey finished in former Port casks, look for a ruddy amber hue and rich caramel and toffee aromas. It's spicy on the palate, with clove, cinnamon, oak and a rounded red fruit note.