Rhum Clement Rhum XO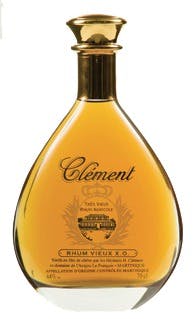 The Clement Rhum XO is a rare blend of aged rums including the highly regarded vintages of 1976, 1970, and 1952, which have been recognized to be the finest ever in Martinique. Wonderfully deep, sweet, not overly woody, with spicy fruitcake and cassius root and saddle leather. Toffee, honey, mulling spice, vanilla from the oak round out the edges. Finish gets a nit sweeter with notes of Demerrera sugar and maple preceding a silky smooth conclusion of dark dried fruit, tarragon, and a fair dose of drying oak.
Wine EnthusiastLuscious; an intensely toasty bouquet with scents of hemp, charcoal, cigarette, paraffin, charcoal and honey. The toasty core flavor is highlighted at palate entry; the midpalate focuses on the brown sugar, honey, oaky vanilla and holiday spice qualities. Semisweet finish, with tastes of nougat, candied walnut and dark honey.